We have prepared a free mockup for you and a set of social media graphics to promote Live Cam Escape entertainment. Thanks to the visuals it contains, you can easily present to your customers what this entertainment is and prepare your own advertisement. Use shared files freely.
What's in the set?
In the files you will find the following views:
view of a laptop with a notebook, from the front
view of a laptop with a notebook, from the right side
view of a laptop with a notebook, from the left side
cover photo for Facebook
artwork for a Facebook post
OG Image for your website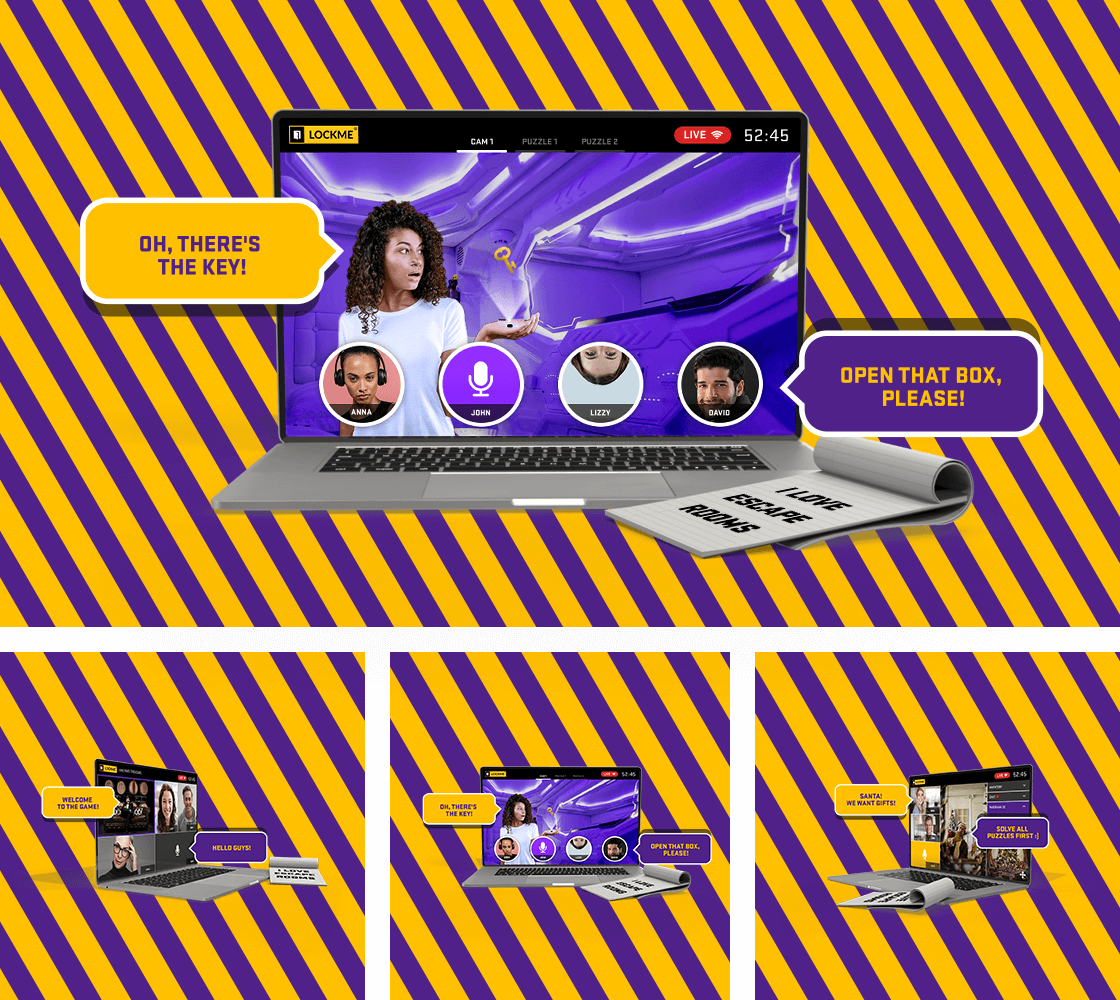 Additionally, in each of the graphics, you can use one of three Live Cam Escape game visualizations. In each of them, you can easily replace our logo with yours. You can choose:
full-screen game with players in bubbles
game screen with rectangular player fields
advanced interface with 3d panorama, inventory system, and chat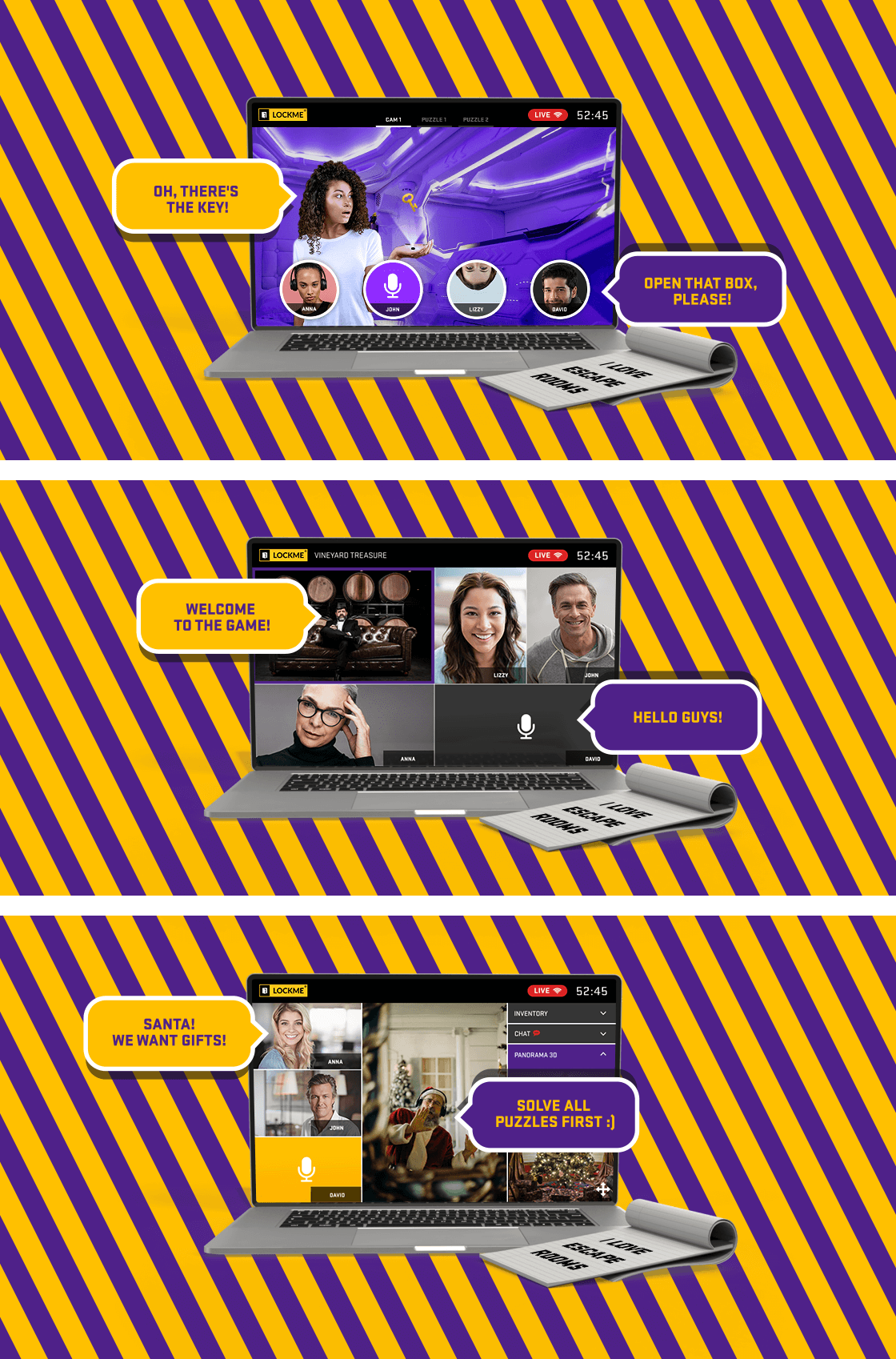 Editable files are in PSD format. However, if you do not have a program or skill to use this format, the package also includes png image files ready to be inserted into your images with the help of any graphics software.
How to use the set?
Below we present how to fully and effectively use shared files. The following points are only tips to make your work easier. However, you can use our resources in any way you want.
Unpack the files
In the MOCKUP directory, you will find files with 3 computer views. In each of them, you'll find a number of layers and directories.
If you want to change the visualization of the game interface, activate the appropriate subdirectory of the INTERFACE directory.
You can edit each of the interface files (double-click the nested file and edit it however you want, e.g. by inserting your logo in it)
In the files, all layers labeled with yellow color are editable layers
In the SOCIAL MEDIA directory, you will find a file with many artboards - modify them any way you like and export them for use in social media.
Some good advice:
use mockups freely, but when designing your graphics, remember that it is not worth filling every element of the image with content. Leave some air.
before publishing, optimize your files for the web, for example by using page https://tinypng.com/. Your customers will thank you for it :)
mockups are prepared in 150 dpi. However, graphics for the web should be in 72 dpi - this is a perfectly sufficient value.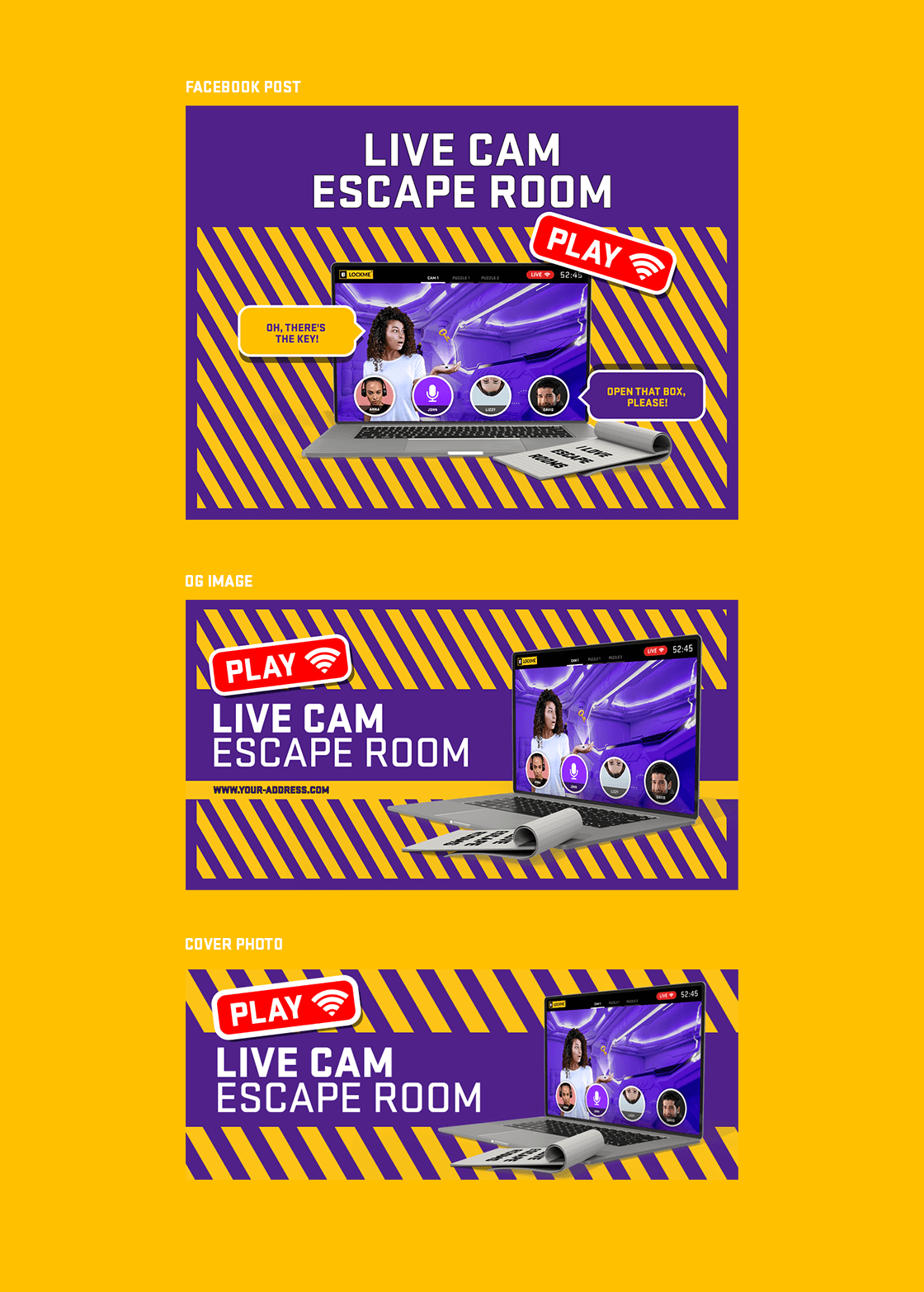 Are you the owner of Live Cam Escape Room?
Free mockups are not all we have for you. Lock.me is a marketplace and an advanced booking system with functions dedicated to Live Cam Escape Rooms. We invite you to familiarize yourself with the possibilities offered by our system:
Use our resources any way you want
Shared files are completely free. You don't need to sign us anywhere or give an address to our site. Nevertheless, if you like what we do, we will be pleased if you mention our website to others.